The Invisalign is an orthodontic system appliance consisting of a set of clear, removable aligners, personalised for each patient to move their teeth to the intended new positions.
In order to gradually move the teeth into the desired position, each aligner is different from the anterior aligner, allowing for a small additional movement.
It is the application of the concept of elastodontics. This is a relatively recent method that has evolved a lot and the aligners are made by computer after a computer planning of three-dimensional orthodontic treatment (ClinCheck).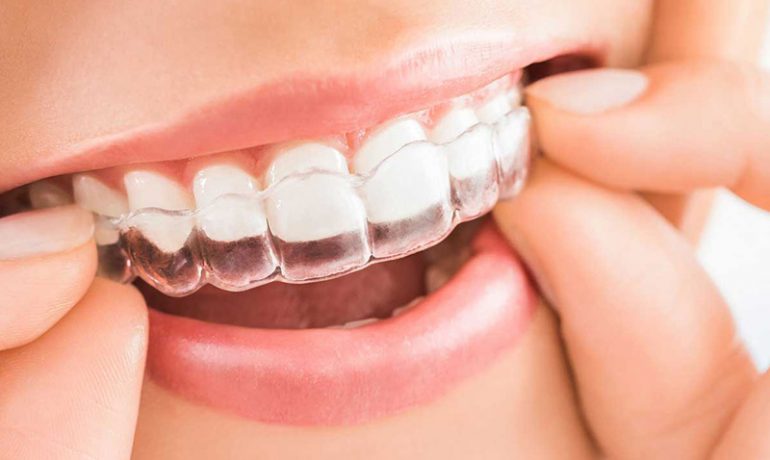 In search of aesthetics and dental harmonization
Aesthetics is one of the benefits of this type of appliance. Being almost transparent, it goes unnoticed. In addition, it is removable, which allows the patient to remove it for eating and to allow easier tooth brushing compared to the fixed appliance.
How does orthodontics works with Invisalign?
In order for the teeth to move gradually to the desired position, each aligner is different from the anterior one, allowing for a small additional movement.
Dental correction is then performed using a series of transparent aligners (called aligners) that fit perfectly into the teeth, making a slight pressure previously calculated and planned through advanced technology.
Aligners are now made of a material called SmartTrack that is much more comfortable as it has plastic and elastic properties. These aligners fit exactly to the gum line, allowing a perfect fit and are easy to place on and to remove.
What does ClinCheck consist of?
The positioning of the teeth (initial and final position) is previously computer-studied through 3D scans in a concerted process between INVISALIGN and ORTOPÓVOA, called ClinCheck.
The orthodontist defines the treatment goals, the dental movements to be performed and their priority. INVISALIGN sends a proposal in computer format, which can be viewed either by the orthodontist or by the patient himself.
I want an orthodontic treatment with the Invisalign method. How to proceed?
If you want an orthodontic treatment with the INVISALIGN method, ORTOPÓVOA´s orthodontic specialist, Professor Dr. Afonso Pinhão Ferreira, has the certified qualification (INVISALIGN Master Course) for the use of this technology.
In this case, you should have a first consultation in ORTOPÓVOA and inform that you want such treatment.
1 – Professor Afonso Pinhão Ferreira will evaluate if the treatment is appropriate for you, and if so, intra and extraoral photographs, panoramic radiography, lateral radiograph of the face and 3D scanning of your mouth will be taken.
Then, the Professor will plan the orthodontic treatment that will be sent to the international affiliate INVISALIGN along with the standardized diagnostic data.
All this data will be used to create a 3D computer treatment plan (Custom ClinCheck), which will be sent to ORTOPÓVOA for rectification.
2 – Once the treatment plan has been prepared, rectified and agreed with the patient, INVISALIGN sends the set of aligners and auxiliary devices to ORTOPÓVOA to begin the orthodontic treatment.